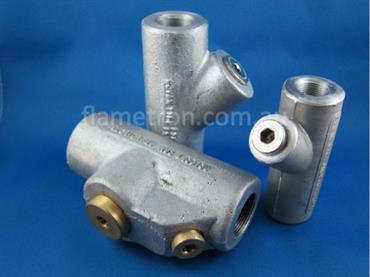 Conduit Seals
Hazardous Area Conduit Seals have many descriptions such as Y-Seal, Flameproof Conduit Seal, Exd Conduit Seal, Stuffing Box, Sealing Fitting, Vapour Barrier etc.
The purpose of the conduit seal is to contain an explosion within an Exd enclosure by preventing the pressure propagating through a conduit; this is achieved by filling the seal with an approved compound packing after the wiring installation has been completed.
A conduit cannot be connected to an Exd enclosure without a conduit seal; this applies whether the enclosure is installed in Zone 1 or Zone 2. Flexible conduits can have certified Exd compound filled barrier connectors, the principle is the same.
Conduit seals are an Exd requirement, there is no requirement for them on Exe or ExtD/Extb (Dust) installations.
If a conduit transits from a Hazardous Area to a Safe Area, a conduit seal should be used to prevent possible transfer of the hazardous atmosphere to the safe area.
We stock Exd Certified Flameproof Explosionproof conduit seal fittings and compound filling kits for conduit sizes ranging from 20mm to 32mm as well as the equivalent sizes in BSPP (also known as G thread) and NPT. Other sizes on request.
For supplies and expert advice feel free to contact us on +61(2) 9567 6700 or email info@flametron.com.au.